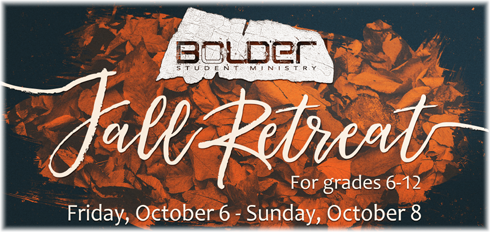 Itinerary | InfoPack | Zip Line Waiver | Paintball Waiver
Early registration $85 per student.
$100 per student after September 24th.
Registration ends on October 1st.

Welcome to our online registration system! Please let us know if you run into any issues with it!
Please note that if you would like to pay via check or are in need of a scholarship, please contact us at boulder@fellowshipoffaith.org for a coupon code to enter before attempting to register.
We will never turn a student away because they can't afford it. If you would like to help with scholarships for other students please consider chipping in a few extra dollars.
We'll spend time each day in worship, study, and reflection. The subject matter will be intense with in-depth teaching enabling students to engage in several experiences designed to help them grow in their discipleship journey. It is geared toward the student who wants to go deeper in their faith. Of course: work hard, play hard! Did someone say zip-line? Paint ball? We'll take full advantage of what the grounds have to offer. We are returning to Rock River Christian Camp in Polo, IL.
Please note that the paintball will cost an additional $25 per student (paid directly to the camp) and we'll need to give them this form.
If you intend to enjoy the zip-line, we also will need this form to give to the camp.
Please fill out and return the Boulder code of conduct and participation waiver as soon as possible. They can be found in the InfoPack above. We apologize about all the paperwork and thank you for your understanding!

_________________________________________________________________
Here's the flow: Please enter your student's first name, last name, and birth date below (shouldn't need to enter all the rest if you're already in the system) so we can pull up your record. Then follow the instructions on the next page!